Van Alstyne Roll Off Dumpster Rentals
When it comes to Van Alstyne roll off dumpster rentals, it's important to work with a business that can provide you with quality service and a positive experience. Here at Alford Services, Inc., we strive to do exactly that.
We invite you to consult with a member of our team and learn more about our assortment of available Van Alstyne dumpster containers. Whether you're a residential client that needs a dumpster for a spring cleaning project, or you own a business that requires big receptacles for large-scale construction projects and demolition, Alford Services is your trusted resource!
It's never been easier to access roll off dumpster rentals in Van Alstyne TX
Here at Alford Services, we make the process easy thanks to our helpful, dedicated service staff. From helping you find the right size for your needs to scheduling both delivery and pick-up, we're here to seamlessly cover your need for dumpster containers in Van Alstyne TX.
Price is one of the primary concerns for clients that approach our team for Van Alstyne roll off dumpster rentals — they want a solution that fits their budget. Alford Services is able to stay very competitive in that department, as we own all of our own equipment. While other services broker out dumpsters that are owned by a third party, we are able to eliminate that overhead and pass the savings on to you.
On top of our affordable pricing, we offer reliable service that ensures the dumpster will be delivered, and removed, right when you need it to be.
Looking for Van Alstyne dumpster containers?
You have come to the right place. Connect with the team at Alford Services and let's talk about our available Van Alstyne roll off dumpster rentals.
Call Us!
Call us to discuss your roll off
need or cleanup project
11 Yard
$315
Up to 1.5 Tons
Perfect for homeowners doing small clean-up or renovation projects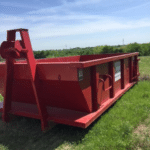 12′ x 7′ x 30"
5 day rental period - call office for additional details
Overages are billed at $65 per ton
Items not allowed: tires, oil, paint & batteries
Sign Up Online
20 Yard
$445
Up to 3 Tons
Perfect for doing moderate clean-up or renovation projects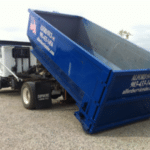 16′ x 7′ x 6′
Rental period varies – call office for details
Overages are billed at $65 per ton
Items not allowed: tires, oil, paint & batteries
Sign Up Online
30 Yard
$545
Up to 5 Tons
Perfect for contractors doing large clean-up or renovation projects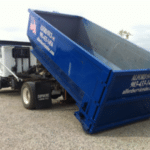 22′ x 7′ x 6′
Rental period varies – call office for details
Overages are billed at $65 per ton
Items not allowed: tires, oil, paint & batteries
Sign Up Online
11-Yard Roll-Off Container
Up to 1.5 tons
Dimensions: 13' x 8' x 3.8'

Rental period is 5 days -- call office for details & to schedule pickup

Overages are billed at $55 per ton

Items not allowed: tires, oil, paint & batteries
20-Yard Roll-Off Container
Up to 3 tons
Dimensions: 22' x 8' x 3.8'

Rental period depends on application – call office for details

Overages are billed at $55 per ton

Items not allowed: tires, oil, paint & batteries
30-Yard Roll-Off Container
Up to 5 tons
Dimensions: 22' x 8' x 5.5'

Rental period depends on application – call office for details

Overages are billed at $55 per ton

Items not allowed: tires, oil, paint & batteries