Pottsboro Roll Off Dumpster Rentals
When you need the reliable solution to Pottsboro roll off dumpster rentals, you need the trustworthy team at Alford Services. Our company offers a wide range of Pottsboro dumpster containers designed to support construction projects, home renovations and clean-up activities at your residential facility.
With a diverse array of disposal options to accommodate your needs, Alford Services is the right choice when it comes to roll off dumpster rentals in Pottsboro TX. Let us help you find the right fit for your disposal needs.
Preparing for your Pottsboro roll off dumpster rentals
At Alford Services, we view ourselves as your team member and partner in waste management and disposal. We help match you with the Pottsboro dumpster containers that accommodate your construction project needs.
Before you get started with the rental process for our dumpster containers in Pottsboro TX, you may need to consider a few logistical matters. These include:
Where will the dumpster be placed?
What size dumpster should I be using?
What type of debris will I be throwing away?
Do I need a permit to keep my dumpster on the street?
Alford Services can provide you with the detailed information you need to make sure that you have allocated adequate space for storing your dumpster. Remember that you need vertical clearance of approximately 22 feet above your dumpster, in addition to space surrounding the sides of the container.
Our waste disposal team can help you find the right place for your dumpster. We can also help you choose the right size of dumpster and provide you with additional information about rental periods and disposal options.
Alford is the top choice for Pottsboro roll off dumpster rentals because of our reasonable rates, comprehensive service, and attention to your needs. Contact our team now to get started. We can't wait to get started working for you.
Call Us!
Call us to discuss your roll off
need or cleanup project
11 Yard
$315
Up to 1.5 Tons
Perfect for homeowners doing small clean-up or renovation projects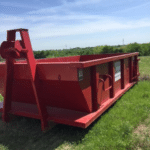 12′ x 7′ x 30"
5 day rental period - call office for additional details
Overages are billed at $65 per ton
Items not allowed: tires, oil, paint & batteries
Sign Up Online
20 Yard
$445
Up to 3 Tons
Perfect for doing moderate clean-up or renovation projects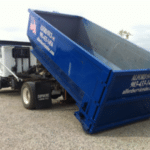 16′ x 7′ x 6′
Rental period varies – call office for details
Overages are billed at $65 per ton
Items not allowed: tires, oil, paint & batteries
Sign Up Online
30 Yard
$545
Up to 5 Tons
Perfect for contractors doing large clean-up or renovation projects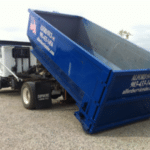 22′ x 7′ x 6′
Rental period varies – call office for details
Overages are billed at $65 per ton
Items not allowed: tires, oil, paint & batteries
Sign Up Online
11-Yard Roll-Off Container
Up to 1.5 tons
Dimensions: 13' x 8' x 3.8'

Rental period is 5 days -- call office for details & to schedule pickup

Overages are billed at $55 per ton

Items not allowed: tires, oil, paint & batteries
20-Yard Roll-Off Container
Up to 3 tons
Dimensions: 22' x 8' x 3.8'

Rental period depends on application – call office for details

Overages are billed at $55 per ton

Items not allowed: tires, oil, paint & batteries
30-Yard Roll-Off Container
Up to 5 tons
Dimensions: 22' x 8' x 5.5'

Rental period depends on application – call office for details

Overages are billed at $55 per ton

Items not allowed: tires, oil, paint & batteries