Frisco Roll Off Dumpster Rentals
Here at Alford Services, Inc., we have been offering Frisco roll off dumpster rentals since 1996. This important equipment has helped both residential and commercial clients collect, store and dispose of an influx of junk and debris in a convenient fashion.
If you find yourself in need of Frisco dumpster containers, then we invite you to browse our options online. You will find a wide range of sizes. This is flexibility that allows each and every one of our clients to find a solution that fits their exact needs.
Convenient roll off dumpster rentals in Frisco TX
At Alford Services, we strive to make our service as convenient as possible. When you entrust our dedicated team with your dumpster containers in Frisco TX, you'll find that life is a little easier because:
You can throw almost anything away in our dumpsters. Of course, we do have a few exceptions, but these receptacles can be a catch-all for house cleaning or building projects.
Our team will help you coordinate all of the logistics related to your Frisco roll off dumpster rentals — from scheduling a pick-up time and location to being there to haul it away when you're done with it.
Speaking of pick-up, our teams are dedicated to making sure that your dumpsters are where they need to be, when they need to be. We know that dumpster drop-off can affect the whole timeline of your project, which is why we always strive to be reliable.
Explore our available Frisco dumpster containers
From a 30-yard roll-off dumpster, to a small two-yard dumpster, we have the equipment you need. Simply connect with our team and tell us what you're looking for in your Frisco roll off dumpster rentals. We'd be honored to serve you.
Call Us!
Call us to discuss your roll off
need or cleanup project
11 Yard
$315
Up to 1.5 Tons
Perfect for homeowners doing small clean-up or renovation projects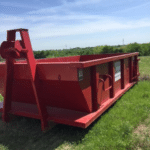 12′ x 7′ x 30"
5 day rental period - call office for additional details
Overages are billed at $65 per ton
Items not allowed: tires, oil, paint & batteries
Sign Up Online
20 Yard
$445
Up to 3 Tons
Perfect for doing moderate clean-up or renovation projects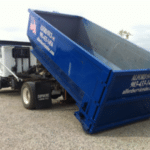 16′ x 7′ x 6′
Rental period varies – call office for details
Overages are billed at $65 per ton
Items not allowed: tires, oil, paint & batteries
Sign Up Online
30 Yard
$545
Up to 5 Tons
Perfect for contractors doing large clean-up or renovation projects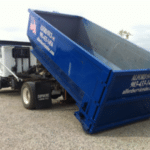 22′ x 7′ x 6′
Rental period varies – call office for details
Overages are billed at $65 per ton
Items not allowed: tires, oil, paint & batteries
Sign Up Online
11-Yard Roll-Off Container
Up to 1.5 tons
Dimensions: 13' x 8' x 3.8'

Rental period is 5 days -- call office for details & to schedule pickup

Overages are billed at $55 per ton

Items not allowed: tires, oil, paint & batteries
20-Yard Roll-Off Container
Up to 3 tons
Dimensions: 22' x 8' x 3.8'

Rental period depends on application – call office for details

Overages are billed at $55 per ton

Items not allowed: tires, oil, paint & batteries
30-Yard Roll-Off Container
Up to 5 tons
Dimensions: 22' x 8' x 5.5'

Rental period depends on application – call office for details

Overages are billed at $55 per ton

Items not allowed: tires, oil, paint & batteries