Frisco Roll Off Container Rental
Cleaning out the home? Renovating your kitchen or bath? Alford Services has a Frisco roll off container rental with your name on it! We'll happily bring a dumpster by your home and pick it up at a pre-scheduled time. You can throw just about anything into the roll off container rental in Frisco TX, except for oil, paint, batteries and tires. This makes spring cleaning, renovations and other DIY projects much simpler – and your neighbors will thank you too!
Why Choose Us for Frisco Roll Off Dumpster Rentals
Let's look at a few benefits to hiring a Frisco dumpster service for your next project.
Keep your yard clean. When you're working on a home, you don't want to see a mess all over. Neither do your neighbors. With a roll off dumpster rental in Frisco TX, you can move all trash directly to the bin to keep your home and yard clean.
Affordable pricing. All of our pricing is listed directly on our website. Before using our dumpster service in Frisco TX, you can request a free quote so that you know exactly what you're paying for.
Friendly service. Our company is family owned and operated and has been serving residential, commercial and industrial clients for over 20 years. All of our staff is hardworking, friendly and personable.
Various sizes. Alford Services carries two sizes of Frisco roll off container rentals. Our 11 yard containter is great for small projects and spring cleaning.  Our 20 yard container is great for remodels and roofing projects. Our 30 yard container is ideal for larger projects such as tree trimming or demolitions.
On time scheduling. Our Frisco dumpster service realizes that you have a job to get done, so we'll make sure we do ours. You can expect your dumpster to arrive on time and be picked up on time. Our crews will also select the best spot for the dumpster – a place that is convenient but out of the way.
Get a free quote for a Frisco roll off container rental by calling us today.
11 Yard
$315
Up to 1.5 Tons
Perfect for homeowners doing small clean-up or renovation projects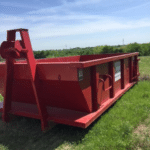 12′ x 7′ x 30"
5 day rental period - call office for additional details
Overages are billed at $65 per ton
Items not allowed: tires, oil, paint & batteries
Sign Up Online
20 Yard
$445
Up to 3 Tons
Perfect for doing moderate clean-up or renovation projects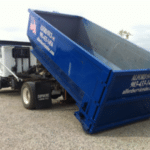 16′ x 7′ x 6′
Rental period varies – call office for details
Overages are billed at $65 per ton
Items not allowed: tires, oil, paint & batteries
Sign Up Online
30 Yard
$545
Up to 5 Tons
Perfect for contractors doing large clean-up or renovation projects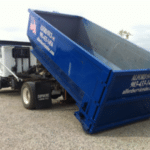 22′ x 7′ x 6′
Rental period varies – call office for details
Overages are billed at $65 per ton
Items not allowed: tires, oil, paint & batteries
Sign Up Online