Aubrey Roll Off Dumpster Rentals
Are you looking for the reliable provider of Aubrey roll off dumpster rentals? Instead of working with a large national chain, where you are just another number, why not consider the local solution at Alford Services?
Our Aubrey dumpster containers are easy to use, and we offer custom rental periods to last for the entirety of your job. Whether you are a homeowner performing your own small renovation or cleanup, or you are a contractor with larger disposal needs, Alford Services has the answer for your roll off dumpster rentals in Aubrey TX. Let us match you with the right dumpster containers in Aubrey TX for your next project.
Tips to prepare for Aubrey roll off dumpster rentals
Before you make the decision to rent one of our Aubrey dumpster containers, you need to make sure that you have adequate space for the container.
Consider the fact that many smaller driveways will not accommodate the larger roll off containers, so you may need to clear space in a side yard or along the street. Make sure that you have already cleared the area and obtained permits for the roll off, if necessary.
Next, take the time to carefully consider the size of the roll off container you will need. Larger dumpsters — those that are 20- or 30-yards, are often suitable for commercial construction projects or major home renovations. Smaller projects may only require the more affordable 11-yard option. Bigger is not always better when it comes to your dumpster containers.
Finally, dumpster users should make sure that they understand disposal rules, including prohibited items. Alford Services does not allow tires, oil, paint or batteries in our dumpster containers. Make arrangements for alternate disposal of those items before you enlist our help.
You may still have questions about our Aubrey roll off dumpster rentals. For more specific information, including rates and rental periods, please contact our office or check out our website today. We are committed to helping you find the container options that will suit your many projects. Alford is standing by to provide you with the assistance you need. Call now!
Call Us!
Call us to discuss your roll off
need or cleanup project
11 Yard
$315
Up to 1.5 Tons
Perfect for homeowners doing small clean-up or renovation projects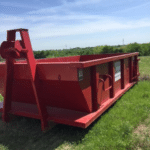 12′ x 7′ x 30"
5 day rental period - call office for additional details
Overages are billed at $65 per ton
Items not allowed: tires, oil, paint & batteries
Sign Up Online
20 Yard
$445
Up to 3 Tons
Perfect for doing moderate clean-up or renovation projects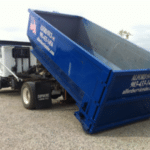 16′ x 7′ x 6′
Rental period varies – call office for details
Overages are billed at $65 per ton
Items not allowed: tires, oil, paint & batteries
Sign Up Online
30 Yard
$545
Up to 5 Tons
Perfect for contractors doing large clean-up or renovation projects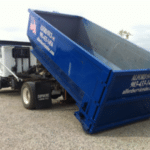 22′ x 7′ x 6′
Rental period varies – call office for details
Overages are billed at $65 per ton
Items not allowed: tires, oil, paint & batteries
Sign Up Online
11-Yard Roll-Off Container
Up to 1.5 tons
Dimensions: 13' x 8' x 3.8'

Rental period is 5 days -- call office for details & to schedule pickup

Overages are billed at $55 per ton

Items not allowed: tires, oil, paint & batteries
20-Yard Roll-Off Container
Up to 3 tons
Dimensions: 22' x 8' x 3.8'

Rental period depends on application – call office for details

Overages are billed at $55 per ton

Items not allowed: tires, oil, paint & batteries
30-Yard Roll-Off Container
Up to 5 tons
Dimensions: 22' x 8' x 5.5'

Rental period depends on application – call office for details

Overages are billed at $55 per ton

Items not allowed: tires, oil, paint & batteries