Aubrey Roll Off Container Rental
Are you ready to reserve your Aubrey roll off container rental? Call Alford Services today for great service and great prices! Our family owned and operated company proudly serves the local community. We have Aubrey roll off dumpster rentals in 11 yard, 20 yard and 30 yard sizes – perfect for all types of DIY jobs such as renovations, spring cleaning and move outs.
Saving Money on Aubrey Dumpster Service
When you have a project going on, the small things can make a difference. Not only do you need to know that the Aubrey roll off container rental will arrive on time, but also that you're getting the best rates possible.
Here are a few ways that we recommend saving on a roll off dumpster rental in Aubrey TX.
Rent from local companies, not national
Avoid working with brokers (they don't own the dumpsters)
Collect quotes and compare apples to apples
Go bigger – don't rent a container that's too small
Donate or sell items before loading your container
Consider sharing with a neighbor to split costs
Why Choose Us for Dumpster Service in Aubrey TX
We may not be able to help you clean out your home in advance, but we can certainly provide you with a quote on a roll off container rental in Aubrey TX! We're also happy to say that we are a small, locally owned business that offers competitive rates. For one low cost, you get excellent service that you can count on.
Here are a few more reasons for choosing our Aubrey dumpster service.
On time drop offs and pickups
Front loading doors for easy access
Keep your home and property picked up
Same day delivery options
20 yard and 30 yard containers
Friendly customer service
Get a free estimate on what an Aubrey roll off container rental will cost for your next project!
11 Yard
$315
Up to 1.5 Tons
Perfect for homeowners doing small clean-up or renovation projects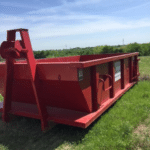 12′ x 7′ x 30"
5 day rental period - call office for additional details
Overages are billed at $65 per ton
Items not allowed: tires, oil, paint & batteries
Sign Up Online
20 Yard
$445
Up to 3 Tons
Perfect for doing moderate clean-up or renovation projects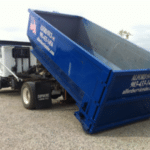 16′ x 7′ x 6′
Rental period varies – call office for details
Overages are billed at $65 per ton
Items not allowed: tires, oil, paint & batteries
Sign Up Online
30 Yard
$545
Up to 5 Tons
Perfect for contractors doing large clean-up or renovation projects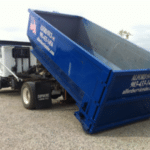 22′ x 7′ x 6′
Rental period varies – call office for details
Overages are billed at $65 per ton
Items not allowed: tires, oil, paint & batteries
Sign Up Online